ATC gets planning permission for luxury development on Park Terrace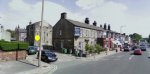 ATC has successfully gained residential planning permission on the former Pine Workshop on Park Terrace in Far Headingley.
Planning permission has been granted to refurbish the existing building and also add on a modern extension to create 2no 1 bed and 2no 2 bed luxury apartments.
The apartments will be available to rent in 2016.