New Apartments completed at 21 Cottage Road, Headingley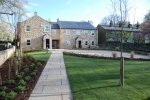 6 new apartments were completed in April 2010 at 21 Cottage Road, Far Headingley.
The development comprised 5 × 2 bedroom and 1 × 1 bedroom luxury apartments. Managing Director, David Barrass said "I am delighted with the finished product which I feel enhances the conservation area. The apartments are built and fitted out to the highest standards and are all fully let.